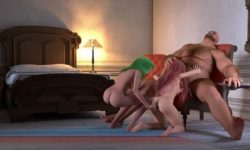 Game Developer: Sprinting Cucumber – Patreon
Censored: No
OS: Windows, Mac, Android
Language: English
Genre: 3DCG, Male protagonist, Fantasy, Animated, Monster girl, Lesbian, Pregnancy, Voyeurism, Humor, Oral porn, Group smut, PoV
Installation:
Extract and run.
After a long night correcting the codebase for a new Web 3.0 Meme Sock Generator, you left work before the morning traffic hit. As the sun peaked over the skyline, you meandered your way through the streets, looking at the morning scenery: trees, mailboxes, lesbians making out at the park. That last one held your fancy for a while, and then…. things turned strange.
The Goddess seems like a bitch, straight up. Like, why she gotta be that way? Anyway, long story short, now you're an infant on a never-ending quest. As you grow, you'll encounter good people, bad people, strange people, cat people, elf people, god-type people… and then you'll die. And then you'll start again. But this time it'll be different. You've learned some things, after all. That damn chicken can't boss you around forever.​
v0.2
– Additional stats have been added for turn-based combat (base attack, magic attack, defense, m def, speed, evasion, accuracy, luck, crit chance). These are based on your level and your base stats (strength, endurance, intelligence, agility, magic).
– Old school turn-based combat has been implemented (still extremely rough around the edges).
– Quests are available at the adventure guild.
– Adventure guild requirements have been loosened (previously required two physical titles, now requires only one).
– Inventory has been added (available in your bedroom for now). This same screen also shows your battle stats and exp level.
– Palace story content has been added (access by finding the statue, guard house, and potion shop clues, then waiting a day).
– You can now kill the chicken, but he's pretty strong, and the story content related to him is currently absent (coming soon).
– Since you can kill the chicken, you can no longer perpetually skip the chicken by staying in your room all day.
– Corrected random images popping up in Lani's night scene.
– Corrected a few labeling mistakes in the god and temple leveling code.
Known Issues with v0.2:
– Stacking inventory items (monster drops right now), do not accurately display their quantity.
– Since effect animations are absent from the battle system right now, it feels very choppy.
– Balancing monster difficulty will be an ongoing thing.
– Cannot bypass chicken until life number 3 (this is a bug, it's supposed to be life number 2).
– There's still a ton of polish needed for all of the new elements in the game. If you see an error message, do please let me know, but it's probably related to sprite animations/attack skill animations, and if you click 'ignore' it should continue on with the game with no more problems.