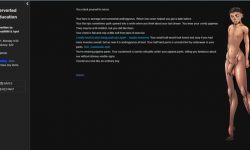 Game Studio: AprilRyan
Tags: aprilryan, html, bathroom, mom, male hero, flash
Censorship: No
Language: English
Version 0.8501
OS: Win
Size: In Download.
Description:
About this game:
Perverted Education is erotic game where main character starts as an immature male of indeterminate (but legal) age, and is slowly corrupted on three sides by his Teacher, Therapist and Guardian (you can choose your mom, or a family friend).
CURRENT Released VERSION: 0.8302 HOTFIX
New additions:
"More cheer content coming soon" page now has an option to reset your cheerleading progress in the event you have progressed past new content that was added.
CURRENT Release date VERSION: HOTFIX .8501
New additions:
Players can now choose from a menu when visiting friend with teacher tasks available. This allows players to choose which task they need help with and return to the previous screen if desired.
Bug fixes
Fixed an issue only allowed the abandonment punishment to be displayed
Corrected username on one of the ice cream images and the waxed crotch (no chastity) image
Fixed a few misnamed variables for player name
Fixed an error that would show during friend reaction sequence
Fixed image sizes and float properties in waxing scene
Version .8500
New additions:
Two new options for the School Slut Bad End – Female Friend and Ashley. Both have hidden requirements to add them to the pool of potential partners, so have fun finding out how to unlock them.
New punishments – Abandonment play and walk of shame punishments have been added to the school slut route, for all of you who would rather be naughty. Both punishments have random options (2 for abandonment and 2 for walk of shame + 1 walk of shame for pet play fetish)
New teacher task: Wear stockings to school. This comes during your crossdressing training, and is only available if the nylon material fetish is turned on.
New friend content – Friend now helps with two more teacher tasks: wax legs and wear stockings.
Bug fixes
Fixed a bug that caused an error to appear when not wearing panties to school
Fixed a bug that caused a soft lock when due to penalties being applied twice when missing a response.
Various text fixes
Bug fixes
Fixed a bug that caused the prompt for the school toilet tasks to display incorrectly the first time if player had rewarded the team.
Fixed an issue that was prevented the frilly and petplay outfits from being available together in the anime club
Fixed an issue that was preventing access to the new cheerleader content
Fixed an issue with the avatar code that caused an error
Fixes an issue with an image when servicing the TA in the anime club.