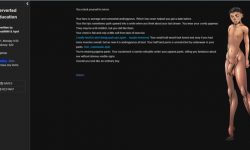 Publisher: AprilRyan
Tags: aprilryan, html, bathroom, mom, male hero, flash
Censorship: No
Language: English
Version: 0.8302
OS: Win
Size: In Download.
Description:
About this game:
Perverted Education is erotic game where main character starts as an immature male of indeterminate (but legal) age, and is slowly corrupted on three sides by his Teacher, Therapist and Guardian (you can choose your mom, or a family friend).
CURRENT Developed VERSION: 0.8302 HOTFIX
New additions:
"More cheer content coming soon" page now has an option to reset your cheerleading progress in the event you have progressed past new content that was added.
Bug fixes
Fixed a bug that caused the prompt for the school toilet tasks to display incorrectly the first time if player had rewarded the team.
Fixed an issue that was prevented the frilly and petplay outfits from being available together in the anime club
Fixed an issue that was preventing access to the new cheerleader content
Fixed an issue with the avatar code that caused an error
Fixes an issue with an image when servicing the TA in the anime club.