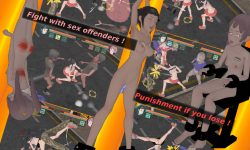 Original title: 未来すっぱぬきポリス
Studio: HoriTail
Tags: horitail, action, 3dcg, rape, oral XXX, straight, bdsm-bondage,
Censor: Yes
Language: English
Version: 1.00
OS: Win
Size: In Download.
Description:
Police of two women confronts a porn offender !
3D Action game !
Riko "Hey! Rookie! Do not do only my obstacle!"
Titose "Sure! I look forward to working with you. Riko senpai!"
Operate Titose of the new face police, and defeat a porn offender !
Don't have to worry because Riko senpai fights together !
-An action game to operate only with a mouse.
-Defeat porn offenders by using fight skills and naughty skills.
-By training at the dojo, obtain status up and new skills.
-Punishment when it becomes the game over.
-Change head, upper body, lower body, underwear, shoes, each.
-In the gallery, can recollect event scenes, training scenes, punishment scenes.
-You can display a subcamera free to do a 360 degrees viewpoint anytime.
■ゲーム内容
2人の女の子ポリスが性犯罪者に立ち向かう!
リアルタイム3Dアクションゲーム!
リコ先輩「こらド新人のヒヨッコ!私の邪魔だけはしないでよね!」
チトセ「は、はい!よろしくお願いします!リコ先輩!」
新人ポリスのチトセを操作して性犯罪者を倒せ!
リコ先輩が一緒に戦ってくれるので安心だ!
・マウスのみで操作するアクションゲームです。
・格闘スキルや、エッチなスキルを駆使して敵を倒します。
・道場での真面目な訓練やエロ訓練により、ステータスアップおよび新しいスキルを入手していきます。
・ゲームオーバーになるとお仕置きが待っています。
・頭、上半身、下半身、パンツ、靴、それぞれ着せ替えができます。
・ギャラリーで、イベント、訓練、お仕置きシーンが回想できます。
・いつでも360度視点自由な立ち絵が表示できます。