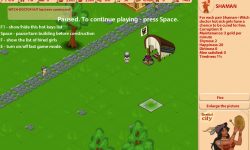 Genre: Erotic, Strategy, Management,Darot Games, Darot Games,Fantasy, Prostitution
Censor: None
Game Developer: Darot Games
Platform: PC / Windows
Version 1.1
Language: Russian + English
Overview:
It is a strategy erotic game where you build your own small "entertainment complex". You start as an owner of a small tavern on the high road between two big cities. Classic fantasy world. Knights, blacksmiths, amazons, priests, robbers, mermaids etc. Tired travelers are glad to meet a place to satisfy their needs. For a peasant it will be enough just to eat something. For a knight – food, water and a good rest for him and his battle horse. And prince will want to eat delicious food, drink old wine, and sleep in the best apartments while musicians are playing soft music.
And yes, almost all of them want some girls. Different girls. Sometimes not even a human girls (oh, those fatigued elves and faeries lovers). Notice that ALL your workers are girls. Or, better to say "females" (yeah, there are some species like centaur mares in the stables and mermaids in the lake and so on). Satisfying all their needs, travelers will pay you in gold.
So later you will find out that you have not just a small tavern, but a town with hotel, stables, farm, lake and even a temple, where beautiful Angel of Charity lives and gives everything she can to those who want without taking a coin. Oh, dear, those come-at-able angel girls…​
Version1.0:
Hi, dear friendvert!
This is Alice from Darot Games, creators of Brothel City game.
Today we have a 2-year anniversary of our Patreon page!
During these years we've succeeded in creating a mid-core sex city-builder strategy game that actually has no analogs within the NSFW gaming industry.
More than 150 unique sexy illustrations, hours of gameplay, classic economy mechanics and much more!
Because of our Page's Birthday, we send a link to Brothel City version 1.0 build to all the Patrons who supported us for more than $20 during these 2 years and it doesn't matter if you are still with us, or quit supporting because of some reasons – you made your contribution to the creation of the game.