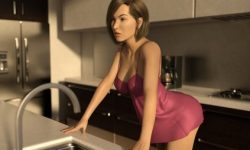 Studio: powd – Patreon
Censored: No
OS: Windows, Mac, Android
Language: Eng
Genre: 3DCG, Animated, Male Protagonist, Incest, Big Ass, Big Tits, Cheating, Corruption, Dating sim, MILF, Masturbation, Oral Adult, Romance, School setting
Installation:
1. Extract and run.
As you start college, you need a job to have financial independence. After you get it, your life starts to drastically change. Bad things happening at home force you to find a better paying job, but the one you can find isn't the most typical job. You need to work and be able to support everyone in your house, but with this job it's no so simple. You can choose to corrupt the people around you, or act in a loving manner. You can choose to get your results out of fear, or other alternatives. In the end, will you work just enough to live comfortably or will you need all the money and power you can have? How far will your ambition take you?​
v0.2
– After what it feels like a lifetime, the update is live. This isn't setting a precedent for future updates; I've learned from my mistakes.
– This contains 300+ new images (mind you the first version had about 80 images), a lot of new quests, and a lot of story development.
– Unfortunately, not a lot of spicy content. But this is an important foundation for the upcoming character quests.
– The goal for 0.3 is to develop the main story further and to complete one of the girls' story.
– All feedback and bug reports are appreciated.
Due introduction remade, old saves don't work.