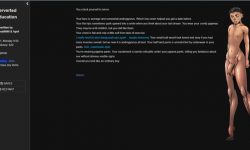 PREVIEW
Free Perverted Education from griffyn Smut Adult Comics download Fast Smut Comics easy download. Perverted Education from griffyn complete Smut Comics available online galleries.
It begins with cross dressing, then forced sexual encounters and will eventually include surgery.
This is my first game[/url], so I welcome all feedback – particularly that which will help make the game more fun to play.
Things still to be added:
– More clothing choices
– More randomised sexual content to help replayability.
– Animations/Gifs/Webm for sexual passages need to be added.
– Surgery is not implemented yet. The idea is that it will increase money earned.
– There are a couple of bad ends, but no winning end at the stage. Not sure what it might be.