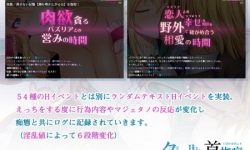 Released Year: 2018
Developed: 2018/11/25
Update Release: 2018/11/230
Version: 3.1.3
Censorship: Yes
Publisher: picArion Canvas (ア リ オ ン キ ャ ン バ ス)
Platform: PC / Windows
Type of publication: Original (licensed)
Tabletka: Not required
Game language (plot): Japanese
Interface language: Japanese
Voice Language: None
System requirements: OS: Windows 7/8 / 8.1 / 10 (32bit / 64bit) | CPU: Intel / AMD Duo Core 2.4GHz + | RAM: 4GB + | HDD: 2GB
Graphics: DirectX 9 / OpenGL 4.1 capable GPU | Video: 1280×768 or better
Description: A thing having the magical power that is more powerful than a currency rules over the all in the society where near sword and magic work in the modern world.
Deep red Yuriko is a Campus strongest magic fencer.
She has character that I am very earnest and am overbearing, but Fiance Finacee exists.
As a man mufufu ♪ na ji is postponement until marriage, but there is not it in the Virgin.
When I was raped in the past, have been robbed of it.