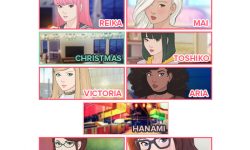 Genre: Flash,anal porn, bdsm, big ass, big tits, cosplay, creampie, dating sim, exhibitionism, handjob, male protagonist, masturbation, milf, oral XXX, romance, school setting, seduction, slice of life, spanking, stripping, teasing, titfuck, vaginal smut, virgin, voyeurism
Censor: None
Version: Aria, Christmas Special, Hanami Special (BUGGY), Mai, Reika, Sara, Satomi, Toshiko, Victoria, Professor Belmont
OS: Windows
Language: English
Size: 278 MB
Description:
Hi, we are Oppai Games! A small team of two who are passionate about making beautiful and fun erotic games ♥
We wanted to make smaller and sweeter experiences which still felt full and polished. Something that was still of very high quality and could be Release date more often for people to play every month. So we came up with Quickie!
Quickie is a series of erotic visual novels …that are shorter
than your average visual novel, but still delivers on a full, fun and sexy experience.
If you like our games, want to see how we work, want to get your name in game or just want to give us a wee tip – any amount is incredibly appreciated and we thank you for your contribution!
Change-Log:
Quickie: Aria
During a trip to an anticipated event in Harajuku, you run into the bubbly, bushy-haired Aria…
Quickie: Christmas Special!
Spend the night with any one of the Quickie cast and see what plans they have for you on Christmas Eve…
Quickie: Hanami Special
Spend a night with Sara, Victoria or Reika on a night out to see the Cherry blossoms…
Quickie: Mai
Mai is a beautiful, talented pianist who is willing to take you out for the night in the bright, sleepless city of Tokyo…
Quickie: Reika
A visit from your sister and an invite to a party turns into an event that will change your relationship forever…
Quickie: Sara
A late night venture to the gym turns into a night to remember…
Quickie: Satomi
During a study period in the library, you encounter the busty, shy librarian assistant…
Quickie: Toshiko
A trip to the park makes for an odd encounter with a strange girl and her cat…
Quickie: Victoria
A visit to the university pool develops into an unexpected dramatic event…
Quickie: Professor Belmont
The arrival of a new professor in your class leads to events that will test your student-teacher relationship…