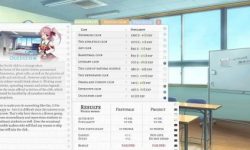 Game Studio: Sloths Command – Discord
Censored: No
OS: Windows, Android
Language: English (machine translated), Russian
Genre: 2D Game, 2DCG, Male Protagonist, Mobile Game, Big Tits, Creampie, Sandbox, RPG, Simulator, Strategy
Installation:
1. Extract and run.
School Game is a game with RPG elements. You create your character and evolve in a school environement. Learn skills, buy equipement, meet classmates, build your reputation and budget, be a member of the student council and various clubs, and improve your relationship with the head of the student council, which you may decide to replace. Isn't it what everyone wanted in high school, even in student years: complete freedom of action?​
—
v0.905
– Cooking was added and, accordingly, satiety, which depends on the amount of energy given out for sleep.
– An alarm clock was added, and the dream system was redesigned: the more you sleep, the more energy you get for sleeping
– The main interface was modified.
– Completely reworked the statistics menu has been removed from the computer. Now it is in the icons on your phone.
– A new location was added – the library, and with it the recipe book.
– The settings, saves, and downloads menu has been completely redesigned. The save and download menu now contains full information about the game session: energy, satiety, money, name, and the exact time.
– The grocery store was completely redesigned. Now each product in it has its own category, as well as a limited number in the store. Also, NPCs now purchase products together with you, and products are updated every week.
– There were added 11 dishes available for cooking, as well as half a dozen ordinary semi-finished products that can be eaten.
– "Cooking skill" was added. Its increase allows you to save products with a certain percentage each time a dish is prepared.
– Auto-feeding capability has been added.
– Added the ability to wait for the start of a new lesson in the classroom.
– A refrigerator has been added, which stores all the dishes you have prepared and purchased.
– Translation has been improved in some places.
– Numerous technical issues have been fixed
– Added a new character- Meiko Tsucasa, who has a lot of events there are about 11,000 words, and also has a new system of compulsion, with which you can force her to do what you want. It is also possible to invite her to the occult club, using her for your own purposes.
– Changed the interface in the store. now it has several categories: products and equipment, now there is a video camera necessary for events with Meiko.
– Two types of sorting have been added to the club management menu for more convenient management.
– Added the ability to pump eloquence, and now notifications pop up when you pump attributes.
– The game has been completely translated into English, starting with the interface and ending with the dialogues.
– Censor was removed from all CGS(thanks to the person under the nickname Sad Man for this)
– Many bugs were fixed. Including big ones.