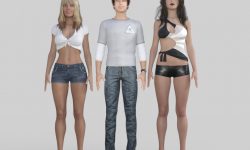 PREVIEW
Free Incbr – Twins Version 0.0.5 Porn Adult Comics download Fast Sex Comics easy download. Incbr – Twins Version 0.0.5 complete Smut Comics available online galleries.
Date: 2017/07/14
Version: 0.0.5
Censor: no
Platform: PC/ Windows
Language: English
The twins is a game where we have the brothers Harry and Sammy wrapped up to the neck in a secret that will change their lives! Part of this intrigue is Mommy and Sammy's best friend! We will have hardcoreuous relationships, anal, corruption and more …
The story of the game happens when "Harry" returns from Spain after 2 years and tries to resist the temptation that is his sister and his mom!